Berlin is an exciting city!
But being also a vast one – having your own private guide is essential.
I, Martin Sauter (MA, PhD) from Berlin Tours am a trained, certified and experienced private tour guide, who will ensure that you'll get the most out of your stay in Berlin.
Be it World War II history, Jewish Berlin, or the history of the construction and fall of the infamous Berlin Wall – with me as your private tour guide you get all the background information you need, presented to you not only in a language of your choice, but also in a friendly, understandable manner, with a touch of class. Discover the real Berlin and see it with different eyes with me as your private tour guide!
Check out the menu to see all the tours around Berlin I offer! 
Take a private tour in Berlin with an experienced certified tour guide: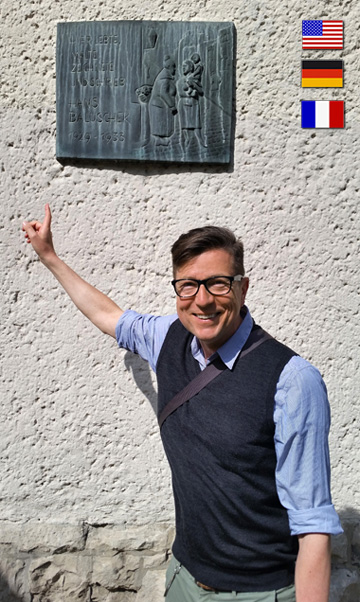 Guided walking tours in 3 languages:
English, Francais, Deutsch. Take a private Berlin tour and discover Berlin with a certified, local guide. My tours cover everything from the obvious Berlin highlights to those off-the-beaten-track places tourists rarely get to see.
Customized private tours:
You tell me what you'd like to see, and I as your private guide will plan a tour that is tailored to your needs, interests and requirements and which will make your stay in Berlin unforgettable!
Tours by bus, minivan or chauffeur-driven limousine:
Please note, that for your convenience a bus, minivan or chauffeur-driven limousine can be hired any time for any tour of your choice. Please contact me for details.
---
Contact me:
For all services, please use the contact form, WhatsApp me (see button above in the right hand corner), email or call me using:
I have experienced the Fall of The Wall first hand. Between 1994 and 2010 I lived abroad for 16 years – in the UK and France – where I worked at Harrod's, YSL, and Chanel. At the age of 40 I went back to studying, gaining an MA in European Cinema Studies at Bath University. This led to my being awarded a Vice Chancellor's grant to do a PhD in Film Studies at the prestigious Warwick University.
I am very curious by nature, and no city could possibly be more of a challenge to the curious mind than Berlin as you come across the most unlikely sights, buildings, and architectural oddities in the most unlikely places.
To me, the most characteristic phenomenon about Berlin are the seemingly never-ending changes this city has been undergoing for centuries, but at rapid speed since the Fall of The Wall. So fascinated by the Berlin's sheer total make-over was I that following my return to this city some 9 years ago, I decided to turn my fascination with Berlin into my profession.
And so, BERLIN TOURS was born. I have since obtained my official certificate that classifies me as
an official Berlin Tour Guide.