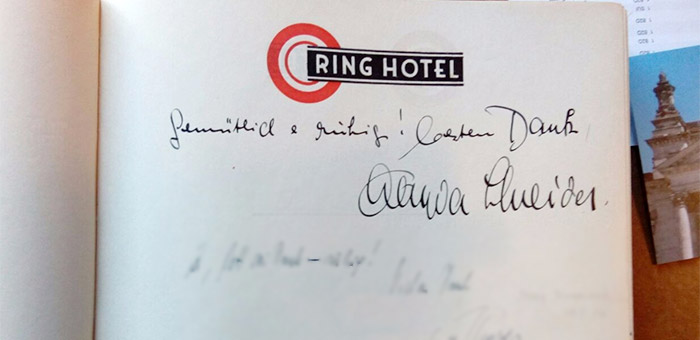 A life between Paris and Berlin
Admired and revered by the French, the attitude of the Germans – me excepted! – towards this 20th century icon is more controversial, ranging from admiration and adulation to feelings of betrayal, not just for having eventually deserted Germany, but for having stripped herself off her detested Sissi-image, an image the Germans loved her for and an image who represented post-war West-Germany like no other, making it so easy and comfortable for them to forget what they had done just ten years earlier. Something in which Romy's mother was, if not complicit, at least not entirely without responsibility: after all, she was one of Hitler's favourite actresses and his neighbour in Berchtesgaden. A fact Romy felt – understandably, yet needlessly – guilty for all her life.
I've always been an admirer of Romy Schneider, and not just because I lived in Paris for so long, I, too, admire her a lot more in her French films than in her German ones. But more than her films, I admire the woman, Romy Schneider, which is the reason why I included this tour in my Berlin Tours portfolio: I consider it my humble contribution to make sure that by offering a guided tour tracing her time in Berlin, this wonderful, talented, yet tragic lady won't ever be forgotten.
During this walking tour (which does involve the use of public transport) Berlin Tours goes back in time, tracing Romy's on-and-off life in Berlin, lived primarily from the mid-1960s to the early 1970s.
Book online now!
The Tour
Meeting up at Europa Center (which she opened as her stepfather was one of its main investors), we'll walk over to the Savoy Hotel, where she loved to stay in (e.g. while shooting her last film, "La passante de Sans Souci") and whose guest book she signed.
Then, we'll take the S-Bahn to Grunewald, from where we'll walk to Romy's former home on Winklerstrasse 22.
Next, we'll take a stroll down to Lake Diana, where Romy spent a lot of time with her newly born son, David, who later so tragically died. Lastly, we'll walk up to the Schlosshotel Grunewald (back then called Hotel Gerhus) where a coffee/ tea/ or lunch break is optional.
The nearby S-Bahn will take us back to the centre of town in just a few stops.
Meeting point - Duration - Costs
Meeting point: Europa-Center
Finish: Schlosshotel Grunewald
Duration: 2,5 – 3 hours
Price: 140€
Extras: Coffee/ drinks, etc. at Schlosshotel Grunewald (optional)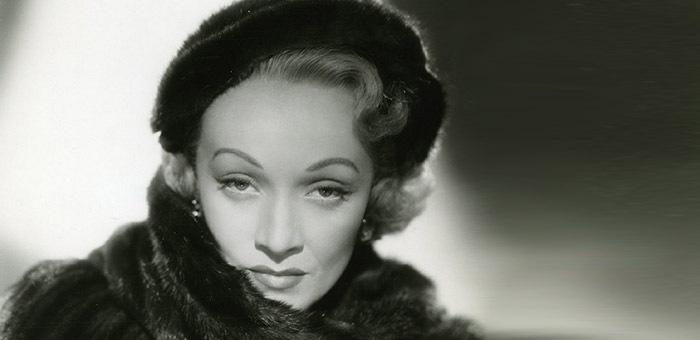 Trace places and locations with Berlin Tours connected with one of the world's most iconic personalities.
Marlene Dietrich was a figure especially older Germans felt ambiguous about while younger generations – like myself – have admired her and looked up to her from the word go: for her courage, her glamour, her style, her wit, her versatility, and last but not last, her staying power.
That's why I feel very strongly about her and am passionate about showing visitors to Berlin during this walking tour (involving the use of public transport) where traces of Dietrich can still be found right here, in her hometown.
Book online now!
The Tour
This guided tour starts in Schöneberg, where Dietrich was born (incidentally, not far away from where one of her friends, later in life – Hildegard Knef – also used to live). From there, we will check out to another one of Dietrich's childhood homes, before we will proceed to Potsdamer Platz, first to the Marlene Dietrich Square, and from there to the Boulevard of the Stars where Dietrich has her very own smack in its centre, after all, no star shone brighter than hers!
Then, our guided tour continues by entering the Film Museum, located across the street, which houses the Marlene Dietrich Collection where many of her gowns, her letters and other private possessions are on show. Lastly, we will go to the cemetery where Marlene Dietrich found her final resting place, in the leafy district of Friedenau, which is located in Berlin's south-west.
Meeting point - Duration - Costs
Meeting Point: S-Bahn Stop Julius-Leber-Bridge (S-Bahn line 1)
Finish: Metro-stop Bundesplatz
Duration: 3 – 4 hours
Price: 180€
Berlin – City of Film, City of Emigrants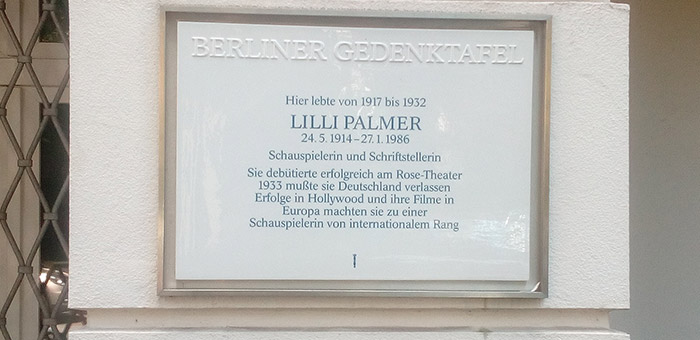 Weimar Germany produced many of film history's most memorable masterpieces.
This half-day guided tour traces the lives of those who contributed to it – as well as those who had to flee no sooner than Weimar Germany had become history.
Weimar Cinema is synonymous with not just all kinds of masterpieces in film history, but also all sorts of inventions that revolutionized cinema and the way films were made. Films like "Metropolis", "The Blue Angel", "Nosferatu", "Fräulein Else" are all part of our collective memory and have left their mark on the cinematic landscape. However, most of its contributors had to flee Germany after 1933 once the Nazis had risen to power because they were Jewish. Others, like Lilli Palmer, were forced to flee Nazi Germany even before they had the chance to leave their mark on German film history – only to return 20 years later to become one of this country's biggest post-war stars!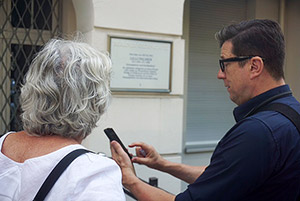 In actual fact, this private guided tour shows you were some of those directors, writers, and actors lived before their emigration, which means that this tour is as much about cinema history as it is about the Nazi persecution of the Jews. Moreover, it highlights what German cinema has lost. And never regained. To this day.
Just so you know: This guided tour is primarily for cinephiles and then one for those who are interested in hearing the various stories of flight, exile and expulsion during the Nazi era. It is a tour that is a little on the strenuous side as it involves a great deal of walking as well as criss-crossing the city by various means of public transport (Metro, S-Bahn, bus).
That said, trust me, it is well worth it! For you will not only see some impressive buildings and houses, but also areas of Berlin the casual tourist never gets to see for the simple reason because they don't even know they exist.
Book online now!
The Tour
This guided tour, exclusively offered by Berlin Tours, starts at Nollendorf Platz. From there, we will visit the erstwhile homes (sometimes even the birthplaces) of the following people (in this order): Christopher Isherwood, Billy Wilder, Lilian Harvey, Elisabeth Bergner, Vicki Baum, F. W. Murnau, Lilli Palmer, Ernst Lubitsch, Marlene Dietrich.
Anyone who's into film will know, of course, about the significance of these names for the history of film. But the stories behind the names are just as interesting, and sadly, sometimes even tragic.
Meeting point - Duration - Costs
Meeting point: Nollendorfplatz
Finish: Metro-stop Bundesplatz (line 9)
Duration: 4 hours
Price: 200€
Extras: coffee/ etc. (optional)