Berlin is an exciting city!
But being also a vast one, it is not easy to navigate. Add to that Berlin's tumultuous history. So, trust me: Having a private tour guide in Berlin is essential!
I, Martin Sauter (MA, PhD), am a certified and experienced private tour guide who will ensure that you'll get the most out of your stay in Berlin. 
Be it Prussian or Nazi history, Berlin's rich Jewish heritage, the German Resistance during WWII, the rise and fall of Berlin's infamous Wall, or the vibrant and international Berlin of today – with me as your private tour guide you get all the information you need, and more. In English, French, or in German, presented to you in a friendly, understandable manner.
Check out the above menu for more!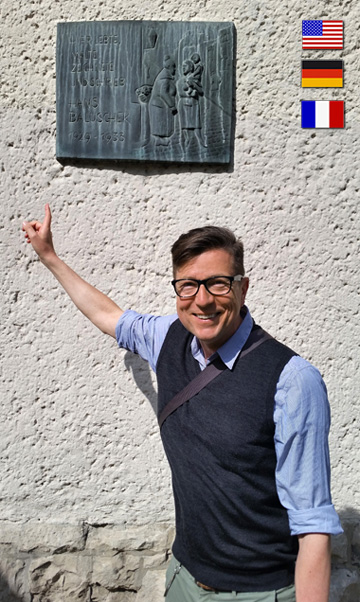 Guided walking tours in 3 languages:
English, Francais, Deutsch. Take a private Berlin tour and discover Berlin with a certified, local guide. My tours cover everything from the obvious Berlin highlights to those off-the-beaten-track places visitors to Berlin rarely get to see.
Customized private tours:
You tell me what you'd like to see, and I as your private guide will plan a tour that is tailored to your needs, interests and requirements and which will make your stay in Berlin unforgettable!
Tours by bus, minivan or chauffeur-driven limousine:
Please note, that for your convenience a bus, minivan or chauffeur-driven limousine can be hired any time for any tour of your choice. Please contact me for details.
---
Contact me:
For all services, please use the contact form, WhatsApp me (see button above in the right hand corner), email or call me using:
As a teenager growing up in West-Germany, the City of West-Berlin was a place full of promise and possibilities. And it so happened, that the time of my arrival in the city, coincided with  the fall of the Berlin Wall. I wasn't quite fully aware to what extent history was being written, after all, I was too busy exploring the earthly delights I felt I'd been hitherto denied. A few years down the line, however, I realised the world had a great deal more to offer still, and so I moved abroad, first to London, then to Paris, and later back to the UK again. In the meantime, I had the privilege to work at Harrod's, Yves Saint Laurent, and Chanel and gained an MA at Bath University and a PhD at the University of Warwick.
Following the successful completion of my PhD dissertation on German-Jewish exile organisations that emerged as a result of the rise to power by the Nazis, I was then offered to contribute to the exhibition Eichmann on Trial, organised by Berlin's Topography of Terror. And so, suddenly I was back in Berlin, about to re-discover the city I'd left so long ago!
What sets Berlin somewhat apart from most cities, is that this city seems to be in constant flux, something which the fall of the Wall has even accelerated. And so – intrigued as I was by Berlin's make-over upon my return to this city some 11 years ago, I decided to turn my rekindled fascination with Berlin into my profession.
I have since obtained a certificate that classifies me as a licenced Berlin Tour Guide.