A guided tour of Gay Berlin: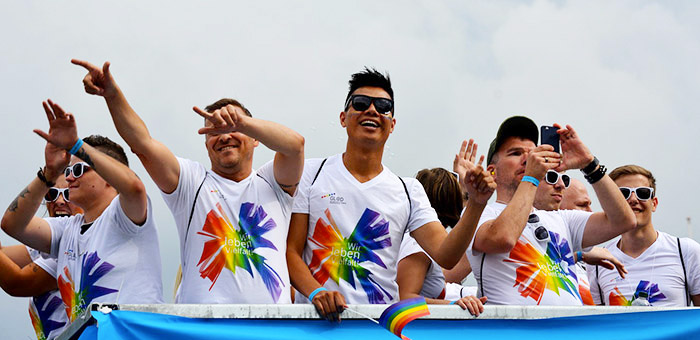 Berlin has long been one of Europe's gay capitals – this guided tour across Gay Berlin explains you why.
When Christopher Isherwood settled in Berlin in 1929, he did so because of Berlin's pervasive libertinage, its liberal, anything-goes-attitude. Of course the Nazis would swiftly do away with all that. But the spirit of the 1920s was eventually rekindled in the 1970s – after all, David Bowie and Iggy Pop moved here for a reason – and lives on to this day, albeit in an altered state, so to speak.
This walking tour (which does involve some use of public transport) traces Berlin gay life past and present, bearing in mind that due to the Internet and luckily, some progress in social acceptance, gay life is no longer that distinguishable from . . . the lives of others!
Book online now!
The Tour
The tour starts at Nollendorfplatz, where the first memorial for the persecution of gays and lesbians was inaugurated back in the 1980s. It is also the heart of the Gay Village and it is in this neckof the woods, that Christopher Isherwood used to stay between 1929 and 1933. The building he lived in survived the war unscathed. From there, we zig-zag through the Village while I point out certain places, bars, clubs, etc. whose history has had some relevance to gay life in Berlin, like, for instance, the notoriously sleazy El Dorado nightclub, one of Berlin's hottest tickets back in the 1920s, attracting Berliners and foreigners alike, among them Marlene Dietrich, no less! Then we'll board the bus 100 to take us to the Spree-Ufer, where I'll show you the newly inaugurated memorial to the first Gay Emancipation Movement while also pointing out where exactly Magnus Hirschfeld's ground-breaking Institute for Sexual Research used to be located (its building no longer exists). Then we'll walk back to the bus stop, taking the bus 100 to Brandenburg Gate, from where we'll walk to the Official Memorial for the Murdered Gays and Lesbians, designed by Dragset and Elmgreen. Walking over to Potsdamer Platz, we'll take the bus to Lützow Strasse, where our tour finishes at the world's only Gay Museum, a museum dedicated to the Gay Movement in Berlin, but which also offers glimpses in gay life and gay movements around the globe and often showcases topics related to the gay community.
Meeting point - Duration - Costs
Meeting point: Nollendorf Platz (in front of the Pink Triangle) Finish: Metro-Stop Kurfürsten Strasse (line 1) Duration: 4 hours Price: 200€ Extras: Museum entry (7,50€); coffee/ etc. (optional)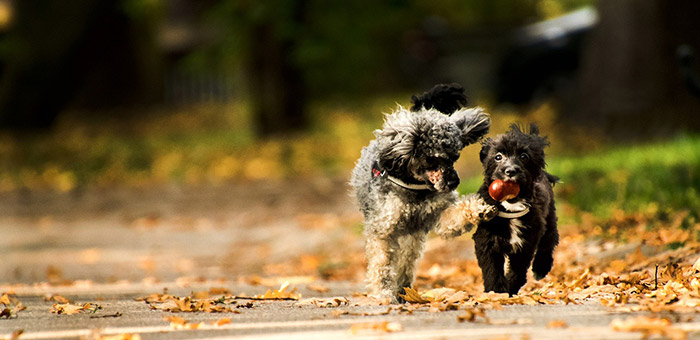 A walking tour through Tiergarten
Having lived in Paris, London and many other places, I know how trying it can be travelling with dogs as they tend to be forbidden everywhere – in trains, restaurants, bars, public transport, and in public parks they have to be put on a lead.

Well, Berlin is different!
First of all, an estimated 200,000 dogs live in Berlin and luckily, grocery stores aside, dogs are allowed here pretty much everywhere, and trust me, being a dog owner myself, that's one of the reasons why Berlin as a city is unbeatable. It does help, of course, that Berlin is full of parks and forests for dogs to roam in, and it is exactly to one of those – Tiergarten, Berlin's equivalent to New York's Central Park – that I intend to take you on an extended walking tour. Plus your dog(s), of course!
Unlike Central Park, though, Tiergarten changes its face depending which part of it you're in, which is already an indicator just how big it is. You don't believe me? Just look at a Berlin map! At times, Tiergarten is more like a forest, almost jungle-like, and then again, it has its landscaped parts and other sections that are nothing but tree-dotted lawns. Those are the ones my dog, Lucas, is most crazy about.
Book online now!
The Tour
But not only is Tiergarten a fabulous place for dogs to run and roam in – without a lead! – but it also boasts also many sights, monuments, and landmarks, among them the fabulous Composers Memorial (Haydn-Beethoven – Mozart), the Venus Bassin, the Queen Louise statue and that of her husband – King Frederick William III – the beautifully landscaped Rose Garden, the Victory Column, not to mention the abundance of ponds and lakes! On a hot summer day, there's nothing better than a stroll – plus sightseeing – through this former royal hunting ground and end it with a pint of beer in one of its several beer gardens. So, if in Berlin, with your dog(s), why not get in touch with Berlin Tours for a long walking tour through this amazingly beautiful, many-faceted, park!
Meeting point - Duration - Costs
Meeting point: Sony Center Finish: Metro-stop Zoologischer Garten (line 2, 9) Duration: 3 hours Price: 150€ Extras: Coffee/ beer/ etc. at Schleusenkrug or at the English Garden (optional)