Ethnic Berlin: Kreuzberg/ Kreuzkölln & Neukölln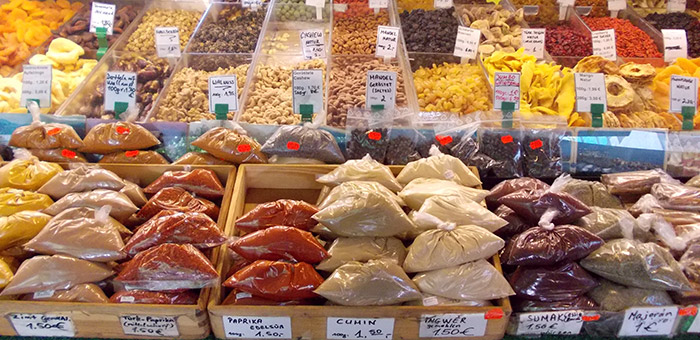 A private, guided tour through the most ethnically diverse neighborhoods of Berlin.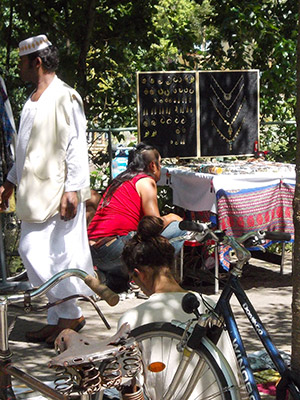 During the division, these two, or rather: three, neighborhoods were located right next to The Wall. Little surprise, then, that they weren't exactly among Berlin's most sought after areas to live in. Both districts were – and still are – known for their ethnic diversity – Turkish and Arab families who settled here in the 1950s and 60s – joined by a vast community of outcasts, drop-outs and just people who found that these areas were best suited to let them be whatever it was they wanted to be.
The Fall of The Wall has put both these neighborhoods smack in the centre of town, which is why they've become highly desirable areas to live in. This mix – some would call it friction – between the Old and The New, have a very special, very unique appeal. And though the sudden popularity of these areas has indeed created some tension, to put it mildly, it is exactly this tension, this particular blend of people, newcomers and those who've lived here forever, that make a walk with a private guide through this area a uniquely interesting experience.
Book online now!
The Tour
We'll start at Oberbaum Bridge (a checkpoint to East Berlin before the Fall of the Wall), then go on to check out East Side Gallery, before winding our way along the narrow streets of Kreuzberg by passing by the famous Markthalle Neun (Market Hall Nr. 9), with its delicacies from all over the world. Then we'll walk along Wrangel Strasse ("Wrangelkiez") until we reach the impressive monastery of St. Marien Liebfrauen. Next, we'll walk down Falckenstein Strasse towards Görlitzer Park with its many buskers and musicians in the summer. We'll eventually reach the shores of the Landwehr Canal, and should it be a Tuesday or a Friday, we'll walk through the Turkish Market (quite an experience!). From there, we'll wind our way through Neukölln and end our tour on Hermannplatz, next to the Arab Quarter.
Meeting point - Duration - Costs
Meeting point: Oberbaum Bridge (Friedrichshain side)
Finish: Hermannplatz (Neukölln)
Duration: 3 hours
Price: 185€
(Per group up to ten people. For groups exceeding ten, please ask for an individual quote.)
Extras: coffee/ etc. (optional)
The Revival of Potsdamer Strasse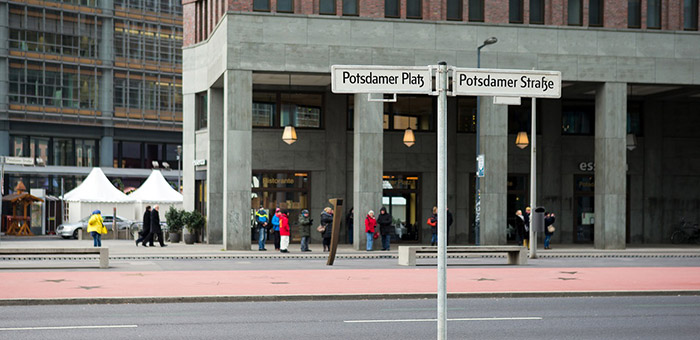 From high culture to high fashion
A few years ago, Potsdamer Strasse in the Berlin districts of Tiergarten and Schöneberg, was a street you were happy to avoid, and if that wasn't possible, you counted your blessings if you got through it without getting stuck in one of its notorious, seemingly permanent traffic jams.
And yet, if you gave the stretch between the New National Gallery (by Mies van der Rohe – currently being renovated by none other than David Chipperfield) and Kurfürsten Strasse a closer look, it's easy to spot quite a few architectural curiosities, if not to say, gems!
And it is these, that attracted a handful of artists and fearless fashionistas with a taste for all that's new and different, who recently made this area popular (again), in fact, turning it into the trendiest in town!
For today, as you will see during our 2,5 hour walking tour, once you've passed the Cultural Forum with its questionable architecture that belies the treasures hiding behind their non-descript walls (e.g. paintings by Vermeer and Caravaggio or haute couture originals by Chanel and Schiaparelli from the 1930s!), you'll enter a vibrant street that's full of unexpected discoveries, curiosities, hidden treasures, and innovation: Where high-end restaurants lie next to the fruit and vegetable stalls of Turkish merchants, and world-renowned galleries like Blain Southern or cutting-edge hotels such as the ultra-hip Lulu Guldsmeden, are next door to shops for oriental goods or Asian takeaways. In fact, it is this diversity, this unique blend of the old and the new, the chic and the shabby, that makes this area so attractive, and so sought after.
Nevertheless, for the casual tourist spotting the highlights hiding on this section is not all that easy as most of its treasures are hidden in courtyards, backyards, and in buildings that don't catch your eye. At least not at first sight.
But with a private guided walking tour by Berlin Tours, you'll be in for a surprise!
Book online now!
The Tour
The tour starts at Potsdamer Platz, in front of the Filmhaus. From there, we'll walk along the Boulevard of the Stars – where the names of those who contributed to the German film industry such as Marlene Dietrich, Romy Schneider, or Billy Wilder are engraved in the ground resembling a red carpet – towards the Cultural Forum, which includes a range of institutions and museums, including the Philharmonic Hall, the Museum for Applied Arts, the Gallery of Old Masters, and – once completed – the newly refurbished National Gallery by Mies van der Rohe. Crossing the Landwehr Canal, we'll get to the hip section of Potsdamer Strasse, where we'Ll explore several backyards, all full of trendy restaurants, world-renowned galleries, and cutting-edge shops and bars. But we'll also come across the Syrian-Orthodox Church of Antioch, one of the world's oldest Christian congregations, sill holding their services in Aramaic, Turkish fruit merchants, the legendary Wintergarten Cabaret, and, well, … yes, even street walkers! All of this makes this part of Berlin one of its most eclectic, most interesting, and most diverse. Go for it!
Meeting point - Duration - Costs
Meeting point: Sony Center (outside the Film Museum)
Finish: Metro-stop Kurfürsten Strasse (line 1)
Duration: 2,5 hours
Price: 165€
(Per group up to ten people. For groups exceeding ten, please ask for an individual quote.)
Extras: coffee/ etc. (optional)