Ethnic Berlin: Kreuzberg/ Kreuzkölln & Neukölln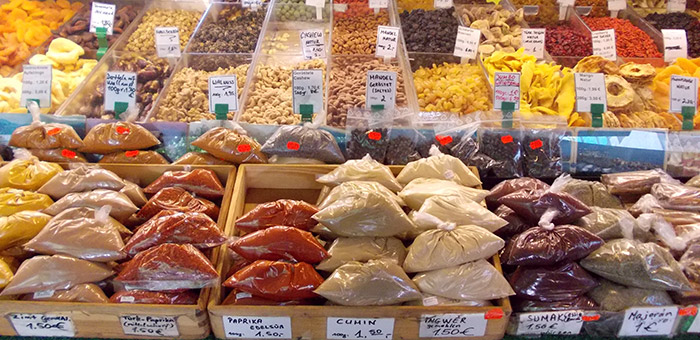 A tour through the most ethnically diverse neighborhoods of Berlin.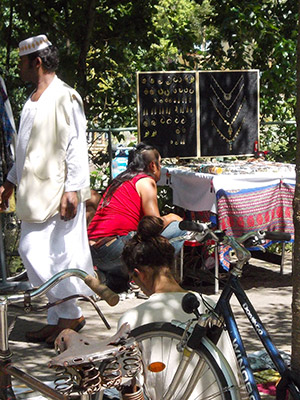 During the division, these two, or rather: three, neighborhoods were located right next to The Wall. Little surprise, then, that they weren't exactly among Berlin's most sought after areas to live in. Both districts were – and still are – known for their ethnic diversity – Turkish and Arab families who settled here in the 1950s and 60s – joined by a vast community of outcasts, drop-outs and just people who found that these areas were best suited to let them be whatever it was they wanted to be.
The Fall of The Wall has put both these neighborhoods smack in the centre of town, which is why they've become highly desirable areas to live in. This mix – some would call it friction – between the Old and The New, have a very special, very unique appeal. And though the sudden popularity of these areas has indeed created some tension, to put it mildly, it is exactly this tension, this particular blend of people, newcomers and those who've lived here forever, that make a walk through this area a uniquely interesting experience.
The Tour
We'll start at Oberbaum Bridge (a checkpoint to East Berlin before the Fall of the Wall), then go on to check out East Side Gallery, before winding our way along the narrow streets of Kreuzberg by passing by the famous Markthalle Neun (Market Hall Nr. 9), with its delicacies from all over the world. Then we'll walk along Wrangel Strasse ("Wrangelkiez") until we reach the impressive monastery of St. Marien Liebfrauen. Next, we'll walk down Falckenstein Strasse towards Görlitzer Park with its many buskers and musicians in the summer. We'll eventually reach the shores of the Landwehr Canal, and should it be a Tuesday or a Friday, we'll walk through the Turkish Market (quite an experience!). From there, we'll wind our way through Neukölln and end our tour on Hermannplatz, next to the Arab Quarter.
Meeting point - Duration - Costs
Meeting point: Oberbaum Bridge (Friedrichshain side) Finish: Hermannplatz (Neukölln) Duration: 3 hours Price: 150€ Extras: coffee/ etc. (optional)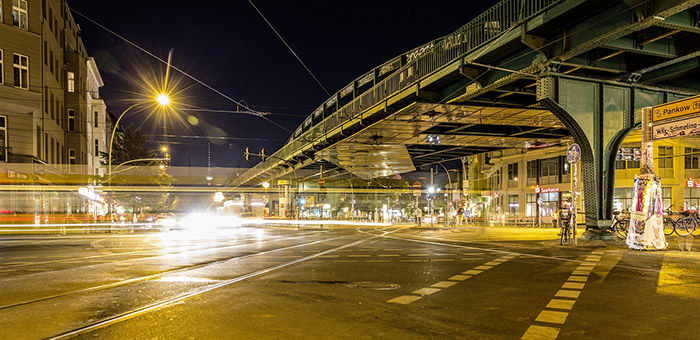 A private tour of the one Berlin neighbourhood that has changed like no other since the Fall of The Wall.
Prenzlauer Berg, once a working class district known for its breweries, it has gradually turned into one of Berlin's most sought after areas to live in – home also to many celebrities – with Berlin's highest number of academics and where the average income is a great deal higher than in the rest of Berlin.
The Tour
Our tour starts at Senefelder Platz, from where we'll cut over to Pfefferberg, once a brewery, now a cultural center, housing also many bars, clubs and eateries, and, most importantly, architect Sergej Tchoban's spectacular Museum for Architectural Drawing. Next, we'll walk along Schönhauser Allee to check out Berlin's second oldest Jewish cemetery. From there, our next stops include the Wasserturm – or water tank – now housing luxury apartments and the Käthe Kollwitz Platz, named after the famous sculptress, pacifist and outspoken opponent of the Nazis, though she never emigrated. Walking along Wörther Strasse, we'll soon reach the brick stone façade of the legendary Ryke Street Synagogue, Berlin's largest, which is known for its splendid interior though sadly, the synagogue is not open to the public. It has recently been restored with a substantial donation from the Ronald Lauder Foundation. Our next stop is the Kulturbrauerei, yet another former brewery that's been turned into a cultural center, including clubs and bars and museums, before we end our tour on Kastanienallee at the Prater, one of Berlin's oldest beer gardens, which is just as beautiful inside as it is outside! Well worth a visit!
Meeting point - Duration - Costs
Meeting point: Senefelder Platz (outside Metro stop) Finish: Prater/ Metro-stop Schönhauser Allee Duration: 2,5 – 3 hours Price: 150€ Extras: coffee/ beer/ etc. at Prater (optional)
The Revival of Potsdamer Strasse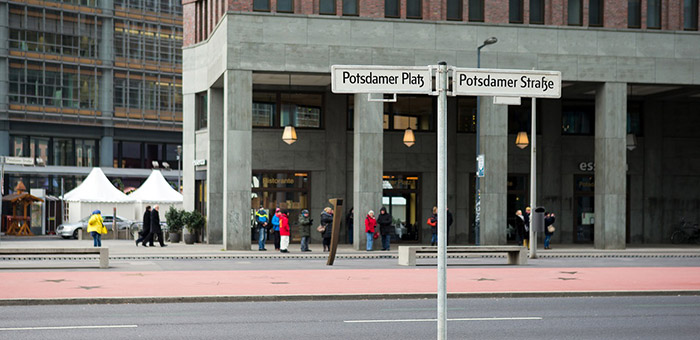 From high culture to high fashion
A few years ago, Potsdamer Strasse in the Berlin districts of Tiergarten and Schöneberg, was a street you were happy to avoid, and if that wasn't possible, you counted your blessings if you got through it without getting stuck in one of its notorious, seemingly permanent traffic jams.
And yet, if you gave the stretch between the New National Gallery (by Mies van der Rohe – currently being renovated by none other than David Chipperfield) and Kurfürsten Strasse a closer look, it's easy to spot quite a few architectural curiosities, if not to say, gems!
And it is these, that attracted a handful of artists and fearless fashionistas with a taste for all that's new and different, who recently made this area popular (again), in fact, turning it into the trendiest in town!
For today, once you passed the Cultural Forum with its questionable architecture that belies the treasures hiding behind their non-descript walls (e.g. paintings by Vermeer and Caravaggio or haute couture originals by Chanel and Schiaparelli from the 1930s!), you'll enter a vibrant street that's full of unexpected discoveries, curiosities, hidden treasures, and innovation: Where high-end restaurants lie next to the fruit and vegetable stalls of Turkish merchants, and world-renowned galleries or cutting-edge hotels are next door to shops for oriental goods or Asian takeaways. In fact, it is this diversity, this unique blend of the old and the new, the chic and the shabby, that makes this area so attractive and so sought after.
Nevertheless, for the casual tourist spotting the highlights hiding on this section is not all that easy as most of its treasures are hidden in courtyards, backyards, and in buildings that don't catch your eye. At least not at first sight.
But you'll be in for a surprise!
The Tour
The tour starts at Potsdamer Platz, in front of the Filmhaus. From there, we'll walk along the Boulevard of the Stars – where the names of those who contributed to the German film industry such as Marlene Dietrich, Romy Schneider, or Billy Wilder are engraved in the ground resembling a red carpet – towards the Cultural Forum, which includes a range of institutions and museums, including the Philharmonic Hall, the Museum for Applied Arts, the Gallery of Old Masters, and – once completed – the newly refurbished National Gallery by Mies van der Rohe. Crossing the Landwehr Canal, we'll get to the hip section of Potsdamer Strasse, where we'Ll explore several backyards, all full of trendy restaurants, world-renowned galleries, and cutting-edge shops and bars.  But we'll also come across the Syrian-Orthodox Church of Antioch, one of the world's oldest Christian congregations, sill holding their services in Aramaic, Turkish fruit merchants, the legendary Wintergarten Cabaret, and, well, … yes, even street walkers! All of this makes this part of Berlin one of its most eclectic, most interesting, and most diverse. Go for it!
Meeting point - Duration - Costs
Meeting point: Sony Center (outside the Film Museum) Finish: Metro-stop Kurfürsten Strasse (line 1) Duration: 2,5 hours Price: 125€ Extras: coffee/ etc. (optional)
A walking tour of Friedenau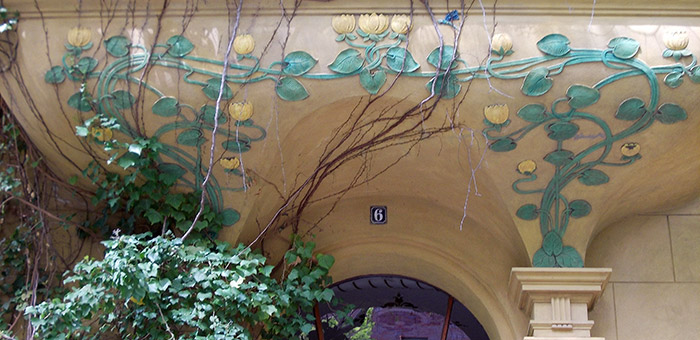 Turn of the century splendour in Berlin's south-west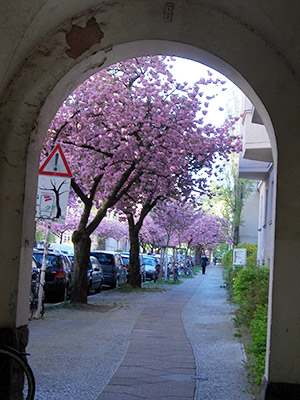 If you're keen on familiarizing yourself with an absolutely tourist-free yet uniquely pretty part of Berlin – Friedenau is the tour for you!
Established during the boom years following the foundation of the German Empire in 1871 primarily for high-ranking military personnel, this leafy, little known, off the beaten track Berlin neighbourhood is full of well-maintained period buildings and has become known as Berlin's literary district. Because of it has recently also come to attract a great deal of well-to-do families, some are dubbing it The New Prenzlauer Berg.
Friedenau, however, is first and foremost known for its writers – past and present – after all, Günter Grass used to call Friedenau his home as does Hertha Müller, who, like Grass, is a Nobel Prize for Literature Laureate.
But this tour also takes you along the erstwhile homes of pacifist-cum-feminist Rosa Luxemburg, the free thinker and early proponent of gay rights, Kurt Hiller, as well as the of former homes of German Expressionist painter Karl Schmitt-Rottluff and many others.
The Tour
The tour begins outside Innsbrucker Platz  Metro-stop (line 4, exit Haupt Strasse). From there, we'll walk to the, especially in Spring very pretty Cecilien Garden Ensemble of houses, built in the 1920, named after Crown Princess Cecilie von Preussen, and designed by architect Heinrich Lassen with landscaping by Albert Brodersen, a well known landscape architect of his time. Next, we'll visit one of two houses in Friedenau the famous advocate or women's right and outspoken pacifist, Rosa Luxemburg, lived in (she seems to have been a serial house mover). From there, we'll walk to Nr. 76 Frege Strasse, which was the home of none other than Joseph Goebbels, and where, it is said, he wrote the majority of his hate speeches. Walking down Frege Strasse, we'll come across a much more pleasant part of German history, namely at Nr. 80, which, in the 1920s, used to be the home of post-war West-Germany's first president, Theodor Heuss. Crossing Hauptstrasse, we're in front of the Roxy Building. Dating back to the late 1920s, the former cinema is a prime example of New Objectivity Architecture, a style that was prevalent across Berlin in the late 1920s. Passing the Friedenau townhall – now a refugee shelter – we'll turn into Niedstrasse, probably one of Friedenau's most beautiful streets. That maybe the reason why so many prominent people settled there, among them the painter Karl Schmitt-Rottluff (Nr.14), the writers Erich Kästner (Nr. 5), and Npbel-Prize Laureate, Günter Grass (Nr. 13), the house which was featured in the popular German TV series, "Turkish for Beginners". After a brief stop at Otto Hofmanns "Castle", we'll cross the Bundesallee to get to the other section of Friedenau where I'll be pointing out the house, where the famous "boy-band" – long before the term became popular – Comedian Harmonists was founded back in 1927. Lastly, the tour finishes by visiting the final resting places of Marlene Dietrich and Helmut Newton who are both buried, literally next to each other, in the quaint Stubenrauch cemetery in Friedenau
Meeting point - Duration - Costs
Meeting point: Metro-stop Innsbrucker Platz (line 4) Finish: Metro-stop Bundesplatz (line 9) Duration: 2,5 hours Price: 125€ Extras: coffee/ etc. at Süsskramdealer/ Lula's, etc. (optional)