Berlin's Architectural Highlights & Curiosities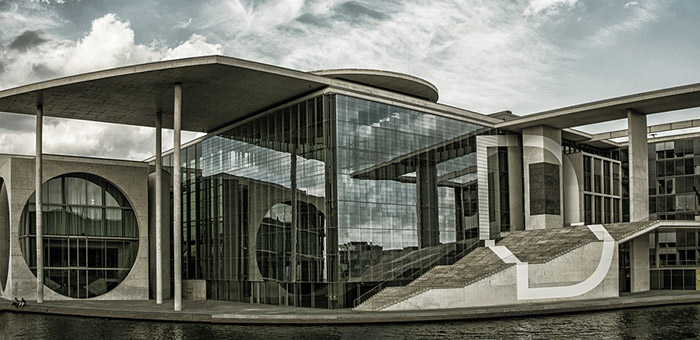 A tour for all those interested in the New Berlin and who are architecture-aficionados.
As much of Berlin had been destroyed during WWII and lots of it subsequently torn down by the GDR officials once the city was divided, one would have imagined that following reunification, Berlin was the perfect playground for the world's best architects to create their best buildings! And yet, some would say, they created, in fact, their worst ones.
However, this must be ascribed, partly at least, to Berlin's bizarre buildings regulations. Still, there are, indeed, some real architectural gems in this city – Rem Kohlhaas' Dutch Embassy for instance, or the Indian Embassy, but also Libeskind's newly completed Sapphire Building or the Otto Bock Exhibition Centre, to name just a few -and this guided tour will take you across Berlin's Mitte to show you the best and most exciting architecture Berlin has to offer!
Book online now!
The Tour
This tour is not entirely undemanding as it takes you across town, starting at centrally located Wittenbergplatz, from which we'll take the bus to the Embassy Quarter. From there it's another bus ride to Potsdamer Platz, checking out a range of buildings there.
Then we'll board the U2 to Berlin's historic centre, checking out Rem Kohlhaas' Dutch Embassy masterpiece and German-Iranian architect's Zohrab Zafari's fabulous apartment building.
A last subway ride (including a change) will then take us to Libeskind's Sapphire and the newly erected German Secret Service Building.
Meeting point - Duration - Costs
Meeting point: Wittenbergplatz
Finish: Metro-stop Schwartzkopffstr. (line 6)
Duration 3,5– 4 hours
Price: 225€
(Per group up to ten people. For groups exceeding ten, please ask for an individual quote.)
Extras: coffee/ etc. (optional)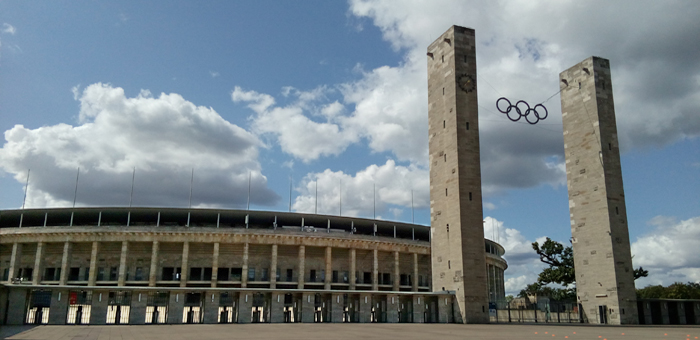 Architecture in Berlin between 1933 and 1945
Twelve years of Nazi rule ultimately turned the City of Berlin into little more than a heap of rubble. At least, that's what one might be led to believe. And yet, a surprising number of buildings built between 1933 and 1945 have survived the Allied bombing which would, in time, bring back Germany to the path of Democracy. Today, some of these fascist remnants stand as a reminder of Germany's darkest hour and its biggest moment of shame. Then again other such buildings have been revamped and today look nothing like they did back then, while some have been put to a completely different use where little if anything points to the era they were built in, let alone to their initial purpose.
Book online now!
The Tour
The tour starts at Checkpoint Charlie, which emerged as an indirect result of Nazi rule, representing as it does, the division of Germany into East and West, as agreed on by the Allied powers at the Potsdam Conference following the capitulation of Germany on May 8, 1945.
From there, we'll walk over to the Rohwedder Building, once the Reichs Ministry of Aviation, from which none other than Hermann Göring orchestrated the bombings of Bath, Birmingham, Coventry, and London.
A few steps away is another building which during Hitler's rule was one of the most infamous: the Reichs Ministry of Propaganda, of which only a section survived the war, but the one that did today serves as – Germany's ministry of Labour and Social Affairs!
Boarding the bus 200, our next stop is the Embassy Quarter, where there's a whole number of buildings related to Nazi Germany, however, it takes some imagination to know that they did, apart from one particular building which was built as the Berlin HQ of Krupp and was later turned into a Catholic college. That building not just looks as sinister as it always has. It also has a very sinister history.
Back on the bus 200, we'll change to subway line U6, we'll make our way to Tempelhof Airport to take an outside look of what once was the world's largest building. Next to it, stands the Airlift Memorial, and a few steps down, one of the world's most curious buildings begins to emerge: the "Schwerbelastungskörper", a huge, immensely heavy block of concrete, designed by Albert Speer to check just how much weight the notoriously swampy Berlin soil was able to bear. All that, in order to build the "Hall of the People", which was to fit 250,000 people, adorned with one massive cupola. Good thing, that monstrosity never saw the light of day.
But one that did is the Olympic Stadium, today a place where Champion League finals are held or where Depeche Mode play two concerts on two consecutive nights. Yet, it was built for the 1936 Olympics, used by Hitler and his cronies as an insidious Nazi-showcase for the rest of world which belied the horrors to come that were already in the making.
Our last stop on our tour is Fehrbelliner Platz. To get there, we have once again to take the subway, so make sure you're in the possession of a valid day pass. Again, on Fehrbelliner Platz there's a whole range of buildings, all built between 1934 and 1941. Though most of them are used by the Berlin Senate today, one of them used to serve as the British Military HQ following the end of WWii and not so long ago, was one of Berlin's largest refugee shelters.
This is where the tour ends, with several subway connections at your disposal to take you back to your hotel/ apartment, etc.
Meeting point - Duration - Costs
Meeting point: Checkpoint Charlie
Finish: Metro-stop Fehrbelliner Platz. (line 3 and 7)
Duration: 3,5 hours
Price: 225€
(Per group up to ten people. For groups exceeding ten, please ask for an individual quote.)